Every type of sport is great and it can help you get rid of stress, but you must take the required safety precautions when practicing various sports, to make sure you don't get injured or have a bad experience. For example, if you go running, you might want to buy a lightweight pair of shoes to perform at your peak. Similarly, when you practice water sports, you might want to follow the next safety tips and tricks.
Make sure that you are aware of the weather conditions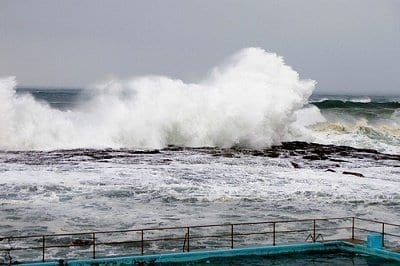 It is important to keep an eye on the weather forecast when you want to practice various water sports. For example, if a storm is announced then you might not want to start your first surfing lesson on such a bad weather. Similarly, if you practice stand up paddleboarding, you might want to wear a wet suit which will help you feel more comfortable in the case you fall in the water. Also, check the water temperature before engaging in any type of water sports. Lastly, you might want to wear a long-sleeved shirt during hot summer days to protect you from UV rays.
Pay attention to off-shore winds
This is another important safety tip you must remember. Certain locations in the world feature off-shore winds at various moments of the day or week. If you practice water sports when the off-shore winds are powerful, you might find it very difficult to get back to the shore. Try to pick a day when the sea is calm and not windy to enjoy the best water sport experience.
Follow the boating rules in that particular area
All locations or exotic destinations in the world feature certain boating rules. It is important to familiarize yourself with these rules, particularly if you are going boating unguided. If you rent a jet ski, make sure that you know where you are allowed to travel and what types of rules and regulations you have to meet.
Alcohol and water sports shouldn't mix
It is strongly recommended that you only practice water sports when you are sober. Keep in mind that a person who has consumed alcoholic beverages has problems maintaining his balance on a kayak, stand up paddleboard or surf board and as a result, he is more likely to get injured or even drown in the most unfortunate cases. Practice water sports first and then meet up with your friends for a beer to tell them what an amazing adventure you had.
Wear the lifejacket if you are a beginner at water sports
Even if you know how to swim, you still are in danger if you accidentally fall from your stand up paddleboard or surf board during your first lessons in water sports. Therefore, make sure that you wear a lifejacket to have more peace of mind. Additionally, not only that the lifejacket can keep your head above the water, but it will also provide a small amount of insulation which can be very useful if you practice water sports in cold water.
Remember to hydrate yourself
Especially if you are trying various types of water sports in places with a warm weather, chances are that you will sweat more than often which can lead to dehydration. It is important to note here that dehydration can be your worst enemy, especially in warm weather. Make sure that you drink enough beverages (not alcoholic ones) to remain hydrates such as water, tea, natural juice, and so on. This will also ensure that your body performs at its peak and your concentration levels are as high as possible.
Tell someone all the details of your paddling plan
Especially if you are inexperienced, it is a good idea to communicate your paddling plan to a professional before departing from the shore. For example, you can tell him where you are going, for how long you plan to stay, and when you are expected to come back. This is a good idea because in the case of emergency or unfortunate events, a professional knows of your whereabouts and can initiate a rescue mission if necessary.
Always follow the instructions given by the instructor
Although you might be very excited and impatient to hop on a surf board and ride the ocean waves, make sure that you remain calm and listen to the pieces of advice given by your instructor. Try to learn the basics of surfing, paddleboarding or kayaking, ask questions if you have and seek his help if necessary. If you pay attention to your first lessons in water sports, you will learn much quicker and have a great experience.
If you want to go on a kayak tour or try surfing then you are welcomed at our surf school in North Carolina. We offer professional water sports lessons and tours for our clients and we also have a large collection of equipments and gears available for rental at affordable prices.