About Kitty Hawk Kayak and Surf School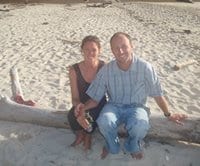 Kitty Hawk Kayak & Surf School is a true Mom & Pop operation run by Herman Hall and Heather MacLean. With decades of experience kayaking and surfing, you will not find more qualified or experienced kayak and surf instructors, or a more professional kayak tour and surf school operator on the Outer Banks.
Herman A. Hall IV
Surf Program Director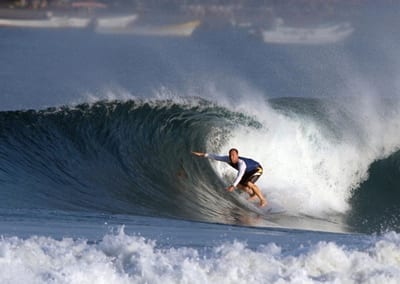 I have been working or playing in the outdoors all my life. I grew up surfing in Virginia Beach and the Outer Banks as a kid. As a teenager, I worked for the Virginia Beach Lifesaving Service as an oceanfront lifeguard, which gave me basic first aid and safety skills and cultivated a deep awareness, respect, and understanding of the ocean.
After high school I started my surfing travels and have since surfed Puerto Rico, Mexico, Panama, Nicaragua, El Salvador, Costa Rica, Spain, Morocco, Portugal, the Canary Islands, Australia, Indonesia, Barbados and Canada. I have taught people to surf on four continents.
I have also thru-hiked the Colorado Trail, a 500-mile backpacking trail across the Rocky Mountains in Colorado, and climbed many 14,000 foot peaks along the way.
As an outdoor educator, I worked for the Costa Rica Rainforest Outward Bound School for a year, leading backpacking trips in the rainforest, volcano summit expeditions in Nicaragua, and 2- to 4-week long surf courses.
The Outward Bound educational principles have profoundly impacted me as an educator, and I try to employ these principals in our kayak tours, surf lessons, overnight trips, and Coastal Explorer Camps. Everyone can benefit from those principals of character development, compassion, community service, experiential learning, social and environmental responsibility, and of course challenge and adventure in the outdoors. These are a huge part of our school, tours, lessons, and camps at the Kitty Hawk Kayak and Surf School.
– Herman A. Hall IV
In 2009 we managed to escape the cold OBX winter and work as a surf instructor for some friends at the Broulee Surf School and Fluid Adventures in Australia. We packed up the whole family and stayed for 6 months. 3 summers in a row ain't bad!!!
I volunteer for the local Surfrider Foundation Chapter as well to help protect our coastal environments for future generations.
I enjoy spending time with my family, teaching people how to surf, swimming, spearfishing, camping, reading, yoga, and kayaking. But best of all, I am married to my best friend and business partner, Heather, and we have two wonderful young children, Herman V and Nellie.
My educational and medical training are the following:
American Red Cross Lifeguard Certification
American First Aid and CPR Instructor Certification
Emergency Medical Technician (EMT): Basic
National Outdoor Leadership School Wilderness First Responder
Surf Instructor Certification: The National Surf School and Instructor Association
BA in Spanish from the University of Colorado
BA in English from the University of Colorado
MS ed of Instructional Technology & Design from University of North Carolina, Wilmington
Heather P MacLean
Kayak Program Director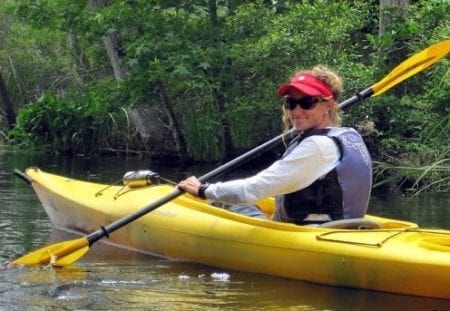 I grew up in Truro, Nova Scotia in Canada and have loved the outdoors since a very young age.
I have worked for the Canadian Outward Bound School, the Costa Rica Rainforest Outward Bound School and the adjudicated youth program in the North Carolina Outward Bound School, helping rehabilitate troubled youth in inner-city Florida.
As a kayak expedition leader, I have led trips in the Everglades National Park, and a solo expedition for two weeks in Northern Ontario.
I am an American Canoe and Kayak Association certified instructor.