Outer Banks Surfing Lessons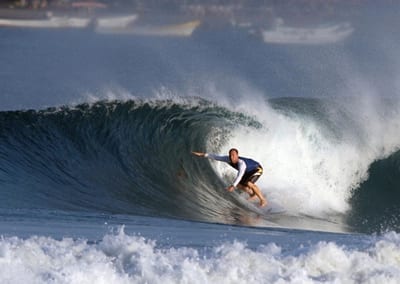 Private Surf Lessons at Your Beach House, the chillest way to learn to surf on your vacation to the Outer Banks 
Private Surf Lessons at Your Beach House on the Outer Banks are quickly becoming our most popular way to learn the ways of the shred and for good reason. All you have to do is walk down to the beach at the end of your street. 🙂 We will bring our top notch surf instructors and shreducators, surfboards, wetsuits and all the gear. Shredding in the confines of the sand bars right out front of your beach house in a private surf lesson setting is a great experience for your family and friends. This is a great option so all the family can watch you surf (and enjoy adult beverages). And the best part is all you gotta do is roll out of bed, get a bathing suite on and walk to the beach; we will do the rest. But make sure to call (252) 261-0145 to schedule these lessons as the times depend on the tide.
Pricing
$125.00 for 1 person
$109.00 for 2 people
$99.00 for a group of 3 people or more
We have been shred-ucating visitors and locals alike of the Outer Banks since 2004 so come on in and shred off in one of our Outer Banks Surf Lessons!! A typical Outer Banks Surf Lesson  lasts 1.5 – 2 hours and begins with a safety talk and learning the anatomy of a surfboard. Next paddling techniques, balance and feet positioning are discussed. Participants then practice popping up onto the surfboard on the beach before getting wet.
Our instructors are there to help you catch waves and answer any questions you might have about surfing, the ocean, waves, or surf culture. They shred before or after the lesson so you will spend more time catching waves instead of watching them shred. The OBX has some of the best surf conditions for beginner surf lessons on the East Coast so come on out and shred wih us!!
Why Take A Surf Lesson with Us?
We have been shred-ucating visitors and locals alike of the Outer Banks since 2004 so come on in and shred off in one of our Outer Banks Surf Lessons. The Kitty Hawk Kayak & Surf School was the first surf school on the Outer Banks to receive National Surf School and Instructor Certification for our business, and all instructors are CPR certified, follow the NSSIA guidlines for safe shreducation and have years of experience shredding locally and worldwide!!! We maintain a istructor to student ratio of 1 instructor to every 4 students to insure a safe, fun an educational experience. We also keep a close eye on the ocean with daily surf checks at dawn to make sure the condtitions are optimal for surf lessons. That means no shredding on red flag days or days with too much current, drift or big surf. At Kitty Hawk Kayak & Surf School, safety is our number 1 priority!! Our lead instructor Herman Hall has taught people how to surf on four continents and is the area's first licensed surf instructor and surf coach through the National Surf School and Instructor Association (NSSIA). Put that with our experienced staff, perfect beginner surfboard, warm water and consistent waves, and you have the perfect recipe for shredding.
Free wetsuit rental if the water is cold. Boards available for rent after the lesson.