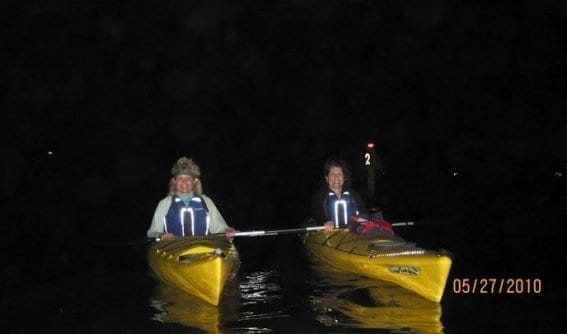 Our Night Kayak Tours are an exciting night paddle to check out the water under the cover of night!
Kayaking during a full moon is a must do for any self-respecting paddler. This 1.5-2 hour excursion is a great way to enjoy the coastal environments, observe bioluminescence (glowing fluorescent bacteria in the water!!!!) and howl at the moon on a summer evening on the Outer Banks. Full Moon and Bioluminescence Kayak Tours are one or the other, an NOT both. If there is a full moon it is too bright to observe the bioluminescence in the water, and if there is no moon, it is dark enough to observe the bioluminescence. Obviously due to Mother Nature's lunar cycles this tour is only offered during a full moon and the summer months when the water temperature is warm enough to support the growth of the bacteria-producing bioluminescence. These tours are a really cool experience being on the water at dark, and begin at 8:30 PM. The water is calmer, the mood mellower, and vide is worth taking in while visiting the Outer Banks. We offer these tours at the following locations:
Kitty Hawk Woods Bioluminescence or Full Moon Tour
Maritime Forest Bioluminescence Tour – Kitty Hawk Kayak & Surf School
Check out the Safari River Maritime Forest Tour at night!
Location: 6150 North Croatan Hwy.
Kitty Hawk, NC 27949
Bodie Island Bioluminescence or Full Moon Tour
Bodie Island Bioluminescence Tour – Kitty Hawk Kayak & Surf School
Paddle through the sound at night on a search for bioluminescence, the microscopic marine creatures that produce a glowing light in the water. The rest of the tour is spent paddling around the marshes by the light of the moon.
Location: Whalebone Water Sports.
Yellow Kitty Hawk Kites building on the causeway.