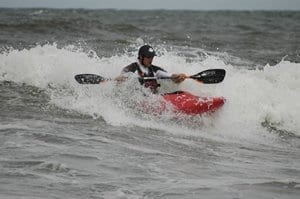 We'll have you paddling out, catching waves, and even turning after an Ocean Kayak Lessons.
We offer private and group ocean kayak lessons for people who want to learn how to surf kayak, or as we call it, sedentary shredding. Helmets, life jackets, surf kayaks and paddles provided. The instructor will enlighten you on the dynamic ocean environment, paddling techniques, judging and catching waves and paddle bracing. Your instructor knows the best sand bars for beginner and intermediate surf kayaking.
1 1/2 hr. lesson
Availability
Please call us at (252) 261-0145 or 1 (866) 702-5061 for the latest and most accurate availability.